ALWAYS ON TIME
"..... TRAVEL"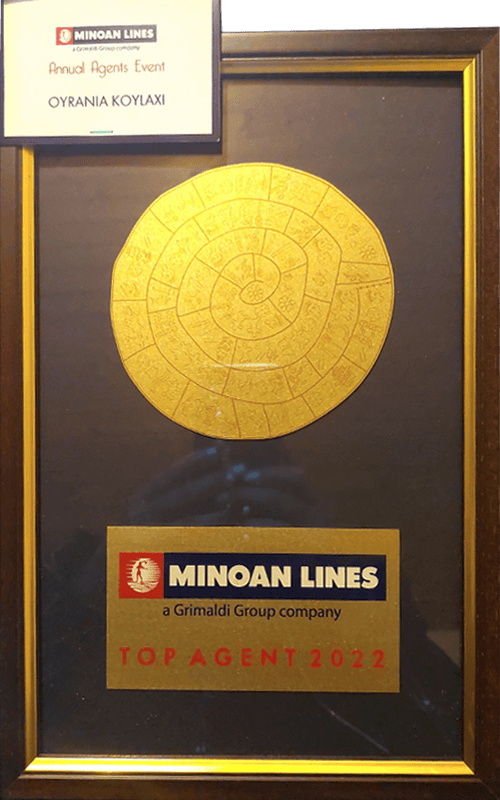 Με εμπειρία 24 ετών στο χώρο του Τουρισμού παρέχουμε υπηρεσίες όπως εκδόσεις ακτοπλοϊκών & αεροπορικών εισιτηρίων, κρατήσεις ξενοδοχείων, κρουαζιέρων, οργάνωση εκδρομών στην Ελλάδα και στο εξωτερικό , ενοικιάσεις αυτοκίνητων , μεταφορές , ενοικιάσεις πούλμαν , και βίζες.
Our main goal is your satisfaction. We plan your trip to be an amazing recipient of a life experience! Our main concern is to serve our customers for a safe trip always combined with economical prices.
Our motto , travel around the world for all the world.
The daily effort and dedication and energy we devote to designing and creating exciting travel experiences for our customers aims at an awareness of the senses and a culture of touring, in addition to simple tourism.
Chios-cesme CHIOS-CESME
Kalymnos / Patmos / Kos - BODRUM KALYMNOS / PATMOS / KOS - BODRUM.
FERRY TICKETS FROM THES/KI TO NORTH AEGEAN ISLANDS AND CYCLADES
FERRY TICKETS TO FINLAND - SWEDEN - NORWAY - MAROCCO - BARCELONA - ROME
WE ISSUE FERRY TICKETS ITALY - GREECE – ITALY WITH ALL THE COMPANIES AS : MINOAN LINES – ANEK / SUPERFAST FERRIES -GRIMALDI LINES -BLUE STAR FERRIES – EUROPEAN LINES – VENTOURIS FERRIES e.t.c.
DOMESTIC FERRY TICKETS FOR GREEK ISLANDS
WE ISSUE FERRY TICKETS FOR ALL THE GREEK ISLANDS WITH ALL THE COMPANIES AS : BLUE STAR FERRIES – FAST FERRIES – GOLDEN STAR FERRIES – HELLENIC SEA WAYS – SEA JETS – ANEK/SUPERFAST – MINOAN – LEVANTE FERRIES e.t.c.
PACKAGES / EXCURSIONS We prepare your own package according to your wishes, as well as I have cooperation with all the big organizations & tourist offices in ATHENS .
WE ISSUE AIRPLANE TICKETS WITH ALL THE AIRLINE COMPANIES AS : AEGEAN AIRLINES, OLYMPIC AIR, KLM, AIR FRANCE, LUFTHANSA, DELTA AIR, QATAR AIRWAYS, ETIHAD, TURKISH AIRWAYS, SKY EXPRESS, RYANAIR e.t.c
THERE IS ALWAYS AND EVERYWHERE, A ROOM MADE FOR YOU, AT VERY ECONOMIC PRICES . HOTELS AND ROOMS AROUND THE WORLD.
WE ISSUE BUS TICKETS WITH ΤΗΕ KTEL ACHAIAS , KTEL EVOIAS , KTEL ARGOLIDIOS , KTEL ATTICA , KTEL FOKIDOS , KTEL PELLAS
SPECIAL COOPERATION WITH ALL THE AGENCIES RENT CAR AS: AVIS , HERTZ, EUROPCAR , ALAMO e.t.c.
CHECK IN, PLF FORMS, F1 GRAND PRIX RACE TICKETS, FOOTBAL AND CONCERT TICKETS, SUPPORT AND APPLICATIONS FOR ISSUING VISA.
"Dont lose more time
travel now!"